Technology has improved the lives of humans across the world, but none is more important than medical technology. From X-ray machines to advanced surgical practices, technology has increased our life expectancy, and more.
Health technology — that is, vaccines, medicines, devices, and procedures and systems — improves the quality of care, lowers medical costs, and streamlines healthcare operations.
Among the most promising health technologies are:
According to the American Medical Association, health technology is a leading concern for healthcare marketing pros. The association has dedicated resources to foster positive digital health (physician-led) innovation.
Health care and technology represent a marriage made in heaven — and can transform medicine at a remarkable pace (if it hasn't already).
Case in point: Artificial intelligence can spot lung tumours better than medical experts. Virtual reality-based rehab speeds up healing after a stroke. Pocket-sized ultrasound devices cost less than hospital machines (almost 50 times less and can connect to your smartphone).
The future is unpredictable, but we can at least glimpse at it in the six health technologies and concepts below. If there's anything we've learned with the novel coronavirus pandemic it's that medical science and technology are inclusive.
Here's a not-so-exhaustive list of health technologies.
1. Artificial Intelligence (AI)
Despite the challenging economic impact of COVID-19, International Data Corporation (IDC), forecasts worldwide revenues for the AI market — including services, hardware, and software — will experience strong 12.3% growth (approximately $156.5 billion) in 2020.
Some of the ways AI can mitigate and reduce preventable medical risks include:
Delivering personalized dosage recommendations — based on ecological factors and the body's chemistry.
Identifying people at high risk — discovers those in need of medical intervention and triggers medical alerts for healthcare plans.
Automating reminders — ideal for assisting patients taking medication within a specific timeframe.
Artificial intelligence is here to stay as key health technology, and there are no signs of it slowing down.
2. Blockchain
The word blockchain is synonymous with cryptocurrencies. But blockchain as a health technology is a digital record-keeping concept, which creates transparent (and impossible to tamper with) transaction ledgers.
Here's how blockchain impacts digital healthcare:
Patient data management — gives you full data ownership where you can gain access to your medical records at any time.
Drug supply chain — helps you identify counterfeit drugs. Checks a drugs origin and manufacturing history.
Clinical adjudication — allows for consistent adherence to approved clinical trial protocols.
Smart contracts — saves you from being overbilled for drugs by creating clear and transparent patient billing communication.
Blockchain is set to revolutionize and benefit the future of healthcare, especially right now when the coronavirus pandemic is creating numerous obstacles for the sick.
3. Wellness Wearable
There are approximately 7.8 billion humans in the world and tens of millions want to track their health with a wellness wearable like a smart-watch and more traditional devices such as blood-pressure monitors, and many more.
Wellness wearable as a health technology tool often monitor the body's vital signs and activities including:
Exercise habits
Heart rate
The wearable can be used to share personal data. Just connect it with a doctor or healthcare provider to share important insights about your health and wellness.
California-based Big Data firm Evidation created a wellness wearable that aggregates data collected from 3 million patients (volunteers) and made the trillions of data points anonymous but searchable for drug development.
4. Handheld Ultrasound Device
Around 4 billion people across the world can't access medical imaging, and for a good reason. Many come from poor countries with little financial muscle to spend on their health.
The good news is that they could benefit from the pocket-sized ultrasound device — a health technology tool created by a Yale genetics researcher, who figured how to put an ultrasound technology inside a chip.
While this scanning tool isn't nearly as good as big hospital machines — and won't replace them anytime soon — but it serves the purpose. It makes scanning more routine, and you can connect it to your smartphone as well.
5. Online Patient Portals
This health technology allows patients to make medical payments, schedule doctor appointments, and even access their health records with ease.
Online patient portals allow patients to actively engage with healthcare, which is beneficial than impressing them with the latest health tool.
Based on this study estimate, health tech has more impact on nearly 14% of people globally who are involved with their care but has a moderate impact of 34% on quality outcomes.
6. All-natural Air Purifier and Detoxifier
Another prominent (and new) health technology device is VBreathe Tasman — an all-natural purifier and detoxifier. It's the world's first patented device combining HEPA filters with VActive Gel to destroy airborne pathogens.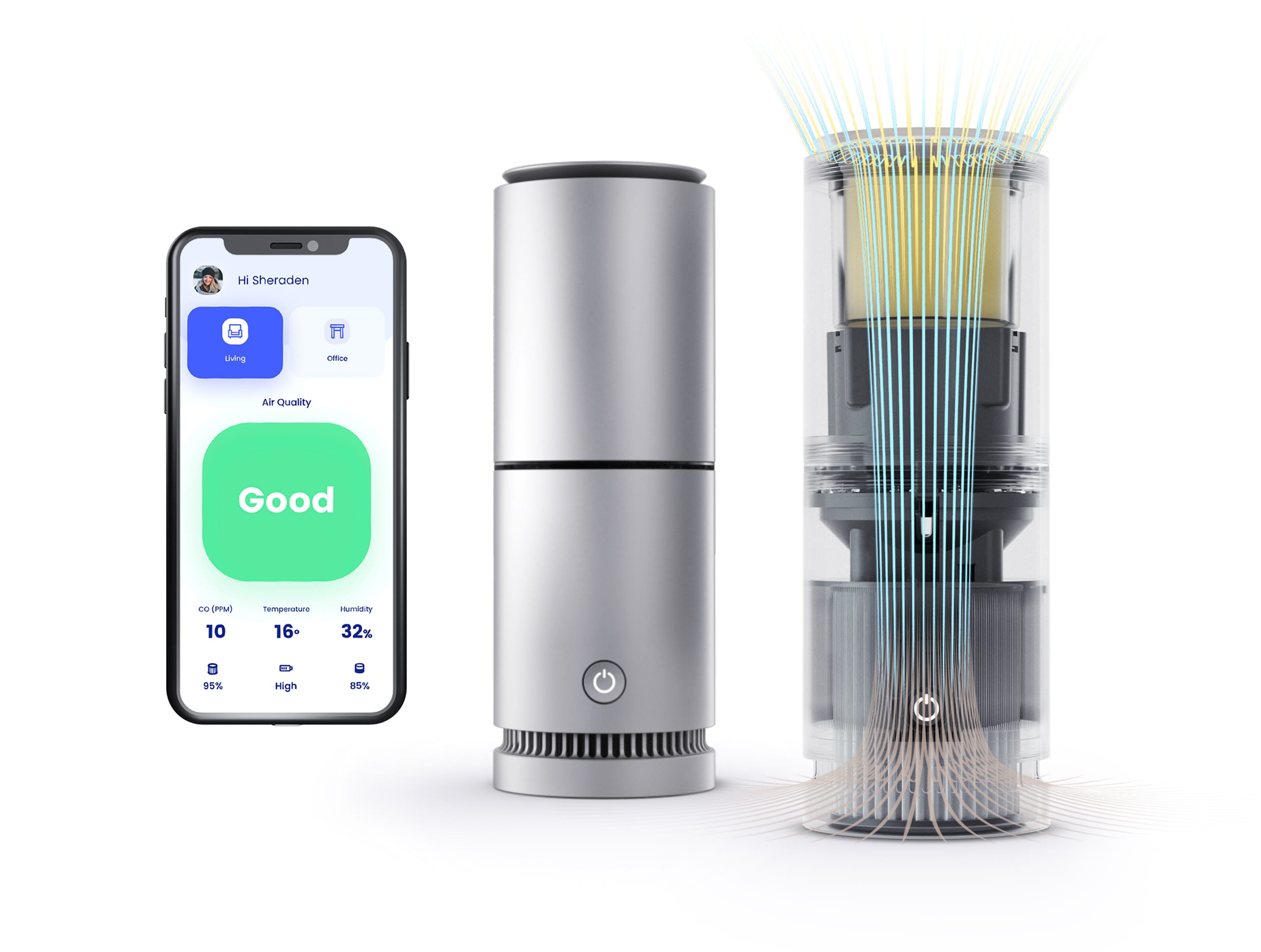 Why VActive Gel? You ask. It's an all-natural gel, based on Australian essential oils which is expelled in vapour form in the surrounding air, that expands the footprint of the device — those all-natural vapours spread throughout the room to neutralize airborne dust particles, germs, and other toxic pathogens that trigger asthma and allergies.
Indoor air pollutants are responsible for 1.6 million premature deaths worldwide in 2017 — about 3% of the total global deaths (creating the most amount of misery).
People and areas at risk of indoor air pollution include:
Parents with young children
The elderly
People with

respiratory problems

Offices and meeting rooms
Medical clinics
Schools
VBreathe is independently proven to work with viruses, mould, bacteria and heavy PM 2.5 particles. Recently, Eurofins Laboratories found that it's capable of reducing a strand of coronavirus (accepted by the TGA or Therapeutic Goods Administration) with 99% efficiency.
Besides the medical-grade HEPA-filtration and the unique blend of the all-natural VActive Gel (with Australian essential oils), VBreathe comes with in-built Smart Sensors — that detect harmful air particles, smoke, mould, and more airborne pathogens. The Smart Sensors then connect VBreathe through to our Air Chain Control mobile app.
We've pivoted to calling VBreathe all-natural air purifier and detoxifier mainly because…
purifies and detoxifies the indoor air
It significantly improves

air quality indoors

Detects toxic gases, mould,

heavy PM2.5 particles

, etc
Helps asthmatics and allergy sufferers
Helps those with respiratory health conditions
Removes bad odour
Deters flies and mosquitoes
Investing in this intelligent and effective device protects you and the health of your loved ones.
The Bottom Line
There are lots of health-care technology options out there, but how do you choose the right one? To make the best choice, be a wise consumer — in short, read reviews and ensure it's safe for you and your loved ones.
Also, tinker and experiment with the technology that piques your interest to discover what "helps you control your health in a way that makes you feel better". Maybe you like a wellness wearable, or maybe a VBreathe device it's up to you.
Then don't forget to think before you buy. Be thoughtful about what personal data is required for a given tool. These few pointers will come in handy when choosing the perfect healthcare technology.